Portslade Old Village
Blaker Family
Kemps was the home to the Blaker family for many generations. The earliest record in the Church shows that the Blaker family was living in the village in 1485. During the Blaker's 400-year association with the Parish the Family have taken prominent positions in public life. Many of the Blaker Family are buried in the family vault at St. Nicolas Church.
Nathaniel Blaker, born 1742 was one of the wealthiest men in Portslade. He married Elizabeth Rogers of Patcham and they had a large family of five daughters and seven sons. He was churchwarden at St. Nicolas in 1764. When he died in 1815 he left £25,000 a considerable fortune for those days. He left his house to his two spinster daughters Catharine age 40 and Cordelia 27. The last Blaker living at Kemps appears to be Anna Kemp Blaker (died 1869). Cordelia (died 1854) was left the house by her father, and her will states that the house was to be sold and divided up between the rest of the siblings. It is not certain whether Anna Kemp Blaker bought the house or not, but according the census she was living there from 1854.
The Arms of the Blakers of Portslade, granted in 1616, depicts the side-facing heads of three Blackamoors - Negroes with African Hair. The Blaker family are mentioned in connection with Old Shoreham, Kingston, Lewes, Patcham, Pangdean, and Brighton itself. Blaker Recreation Ground in Brighton was a gift from Sir John Blaker, a descendant of Edward Blaker who built Kemps, who was mayor of Brighton from 1895 to 1898 and chief military representative of Brighton during the First World War.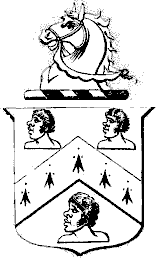 Edward Blaker was MP for Shoreham in the 17th century; Three members of the family became Churchwardens of St.Nicolas Church in the 19th century. Harry Blaker became a surgeon in Brighton. Harry Blaker attended Queen Victoria when she was in residence at the Royal Pavilion; he vaccinated the Prince of Wales later to become Edward VII and Princess Victoria who became the Empress of Germany and mother of Kaiser Wilhelm II
Edward Blaker by his will dated 16 July 1594 in which he is described as of Portsdale, yeoman, directed as follows: "My bodye to bee buryed in ye parishe churchyarde of Porteslaide. Item. To the Highe Churche of Chichester 6d. Item to Edwarde Blaker my sonne sixe oxen and two horses two maires one plowe yockes chaines and all othere implementes and sixtie shepe and three quarteres of whete and sixe of barye. Item to John Blaker my sonne £60. Item to Thomas Blaker my sonne £60. Item to Henrye Blaker my sonne £30. Item to Christian Blaker my daughtere £40. Item to Anne Blaker my daughtere £40 (all which legacies were to be paid at twenty one). Item all the resydue of my goodes to my wiffe Anne Blaker and she to bee sole executrice. William Lane of Lewes gent. Ric. Scrase of Blatchington gent. (Richard Scrase was the father of Tupen Scrase whose daughter Susanna was married to Edward Blaker.) and Henrye Hall of Portslaide yeoman to be overseeres and eche to have for theire paynes 6s 8d." This will was proved 3 December, 1594, by the tesator's widow in the Archdeaconry Court of Lewes.
Taken from reminiscenses The first Surgeons appointed to the County Hospital were Mr. Harry Blaker, Mr. Robert Taylor and Mr. John Lawrence. Mr. Harry Blaker was Surgeon to the Royal Family and had £300 a year for attending the household at the Pavilion.
Mr. Harry Blaker vaccinated both King Edward VII. and the Princess Royal, afterwards Empress of Germany. He brought some vaccine matter from them and vaccinated two of his own grandchildren, telling his daughter, their mother, that her children should have royal blood in their veins. One of the children vaccinated was Mr. Clarke's own mother.